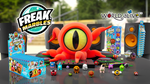 World Alive Unveils Freak Marbles: Spain and Portugal Launch (Sept. 2023) & Global Expansion (2024)
World Alive, the visionary toy company, proudly introduces Freak Marbles, its groundbreaking brand redefining marble play and collecting by making marbles cool again! The exciting launch is set for Spain and Portugal in September 2023, followed by a global expansion in 2024.
Freak Marbles takes the classic marble game to new heights with unique characters, dynamic gameplay, and captivating designs. Collectible marbles that put a modern spin on a classic concept: Freak Marbles are 3cm characterised marbles with 360 decoration to create freak characters from monsters, robots, nightmares, animals, and more! They also have matching skins which convert them into figurines to play or display. The collection includes 5 rare freaks (glow-in-the-dark, glitter jelly, silver, colour-changing and super rare gold) and all freaks and skins are interchangeable. They are sold in surprise packs, which includes a skin and marble in each, sets of three in a reusable drawstring bag or sets of 6 in a try-me packaging. A Battle Arena is also available for indoor play. In line with World Alive's sustainable development goals, all Freak Marble packaging is sustainable and the battle arena is made of 100% recycled plastic.
Working with Winter Video for the creation of TV and digital assets has resulted in compelling videos, including this mesmerising TVC, showcasing the excitement and boundless potential of Freak Marbles.   
A series of Freak Marbles racing channels are being produced for YouTube publishing in conjunction with Marble Universe, the world's biggest marble run channel. Freak Marbles rallies will also appear as special guests on Jelle's Marbles (english), Fubeca's Marble Racing (english and portuguese) and a year long collaboration with MarbleRunSport (spanish).
"We're creating a new era of marble collecting," said Amy Holden, Founder and Director of World Alive. "We love taking classic intercultural and intergenerational play patterns and totally innovating them, using today's technology and modern designs. That was the aim when we took our minds to making marbles cool, fun and collectible. Our own Freak characters are just the start and will form the foundation of the range with new waves of product coming periodically. The marble and skin concept is our registered design and a format that we will soon make available in several of the world's best licences to fuel the desire to collect them all."
"Our partnerships with Winter Video and the world's largest marble racing channels, has brought the vision to life, showcasing the excitement and fun of collecting and playing with Freak Marbles through compelling video content." Freak Marbles will captivate children and marble collectors worldwide, making marble collecting an exhilarating experience for all ages. Kids will be taking their marbles to school to play active games with them in the school patio, swapping marbles and skins, and displaying them on their desks in class or in their bedrooms everywhere. 
The Spain and Portugal launch marks a defining moment for World Alive, introducing its innovative brand to one of Europe's larger toy markets in partnership with Valuvic Toys. The spanish marketing campaign includes influencer collaborations with MikelTube, Ely and hundreds of road-test/unboxing videos across social media, a 65,000 piece giveaway in Spain's largest kids magazine, Clan. Including a mention in Clan's October TVC, and advertising in Kidoz and YouTube.
Global expansion in 2024 includes partnerships with;
Modern Brands/Modern Star Group for Australia and NZ, 

PT Emway Globalindo for South East Asia, 

and Carletto AG for Germany, Austria and Switzerland. 
Multiple other territories are still under negotiation. Contact Amy Holden for a presentation at the upcoming toy trade meetings in LA, NY or HK.
amy@world-alive.net
BOOK YOUR PRESENTATION
LA: BOOK LA 
NY: BOOK NY
About World Alive:
World Alive is a visionary toy company that sparks curiosity and ignites imaginations through innovation and fun, educational products, creating unforgettable play experiences for children and adults worldwide.
About Freak Marbles:
Freak Marbles is the thrilling new brand launched by World Alive, redefining marble collecting with its unique characters, dynamic gameplay, and captivating designs.
Website | Youtube | YoutubeESP | Tiktok | TiktokESP | Instagram | Facebook 
About Winter Video:
Winter Video is a renowned production company specialising in visual storytelling, helping brands captivate audiences with visually stunning content.