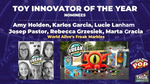 Nominated for the 2023 TAGIE Awards "Toy Innovator of the Year" for Freak Marbles by World Alive
The TAGIE Awards, now in its 16th year, honour the most innovative inventors, designers, suppliers, retailers, marketers, and PR teams in the toy industry. We are proud to be among the finalists in the
"Toy Innovator of the Year"
category for our groundbreaking product,
Freak Marbles
. 
Our dedicated team - including Amy Holden, Karlos Garcia, Josep Pastor, Lucie Lanham, Rebecca Grzesiek, and Marta Gracia - has worked tirelessly to bring Freak Marbles to life. These unique, collectible marbles offer a fresh and exciting twist on a classic game, sparking creativity and imagination in children worldwide.

Now, we need your support! Public voting for the TAGIE Awards is open until October 20, 2023. Your vote can make a difference in helping us secure this prestigious recognition. Visit the TAGIE Awards Finalist page to learn more about the finalists.
Vote here!

Winners will be announced on November 3, 2023, during a live event, and your support will be instrumental in our journey to success.

We want to express our gratitude to our amazing team, partners, and supporters who have made this nomination possible. At World Alive, we are committed to creating innovative and educational products that bring joy to children worldwide, and this nomination reinforces our dedication to this mission.

Help us bring home the TAGIE crystal engraved award by casting your vote today! Your support means the world to us, and together, we can continue to redefine playtime for children everywhere.


Stay tuned for more updates, and thank you for being a part of the World Alive journey!