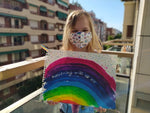 Children's Art Mask Brings Solidarity to the Streets
MasksForAll has released a new face mask with a printed design of rainbows drawn by children in Spain during their six-week confinement at home.
Children all over the world are making rainbow art with the words "Everything will be OK" in many different languages and displaying them on their balconies and windows during lockdown. This has been a sign of strength and optimism from the children and an international symbol that we are all in this together.
MasksForAll collected photos of children's rainbow art from families all over Spain and turned them into a rainbow design which has now been printed onto fabric and made into brightly-coloured face masks in sizes for all the family.
Amy Holden, founder of MasksForAll, said:
"The lockdown has been a momentous event in the lives of children. We have created something we can keep forever to remember this exceptional time, and that recognises the part children have played in reducing the spread of the virus."
"Rainbow paintings on windows and balconies were a way for children to connect and share a positive message with each other from their own home. Now, as they begin to go out into the world again, we want them to see their rainbows on other children and to realise that we are all in this together."      
MasksForAll was set up in March 2020 by Amy Holden, a Barcelona-based toy designer, when she could not buy face masks suitable for her children. She wanted an eco-friendly option that didn't use up valuable PPE, which is vitally needed for essential workers. Amy quickly realised she could make reusable, sustainable masks locally in Barcelona.
"I knew it would be a huge logistical challenge to start producing masks during the lockdown, so I called on my network of mums and now there are five of us all working remotely to make this happen while we try to supervise our children's schoolwork at the same time. They do say if you want something done, ask a busy mum!"
The MasksForAll Shop sells hygienic fabric face masks which comply with UNE 0065 Specification. They are made from two layers of soft 100% cotton fabric, allowing a filter to be inserted between the layers, and they have a curved shape which reduces gaping over the nose. The 100% organic cotton lining is a sanitary fabric which has been tested to offer more than 94% filtration capacity.  The masks are made locally on the outskirts of Barcelona.
As well as selling the masks online, MasksForAll makes an extra mask for every three sold and have so far donated over 500 masks to local charities and good causes, such as El Casal dels Infants del Raval and Caritas.
The full range of masks and further information can be found at https://masksforall.shop/en
MasksForAll is a project of World Alive SL (NIF B63470496) creators of well-known children's toy brands. World Alive products include Aqua Dragons and Soul Mates yoga mats. World Alive SL is also offering the Hygienic Masks wholesale or in packs for schools or groups.